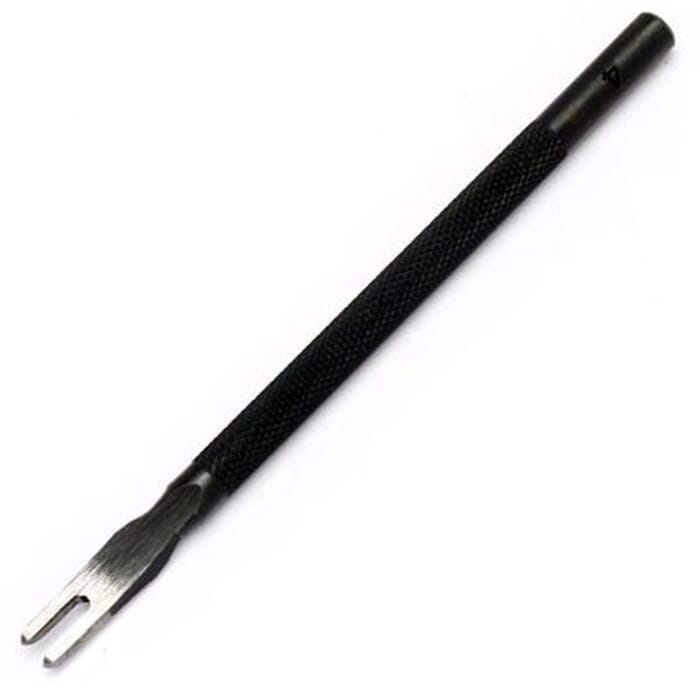 Kyoshin Elle Leathercraft Pricking Iron 2x4mm Stitching Punching Tool 4mm 2-Prong Diamond Point Leather Stitching Tool, for Leatherworking
This stitch punch has a polished surface which helps it to penetrate and draw more smoothly than traditional leathercraft stitching chisels.
---





Made by Kyoshin Elle of Japan, this excellent 2-pronged pricking iron is great for your leathercraft stitching needs. Built from tool steel, a mix of carbon steel and alloy steel with qualities such as hardness, wear resistance, toughness, and resistance to softening at high temperatures gives this tool excellent penetrative qualities and ensures its durability. This high-quality tool punches holes in the shape of a diamond, which is perfect for leather stitching and makes punching quick and straightforward. This tool has been quenched for outstanding sharpness. The handle is non-slip and fits your hand well, allowing you to grasp it securely and firmly while working.
Great for making stitch lines around curves and in tight spaces. This tool may be used to punch holes in leather bags, wallets, cases, and other applications that need precise stitching.
Approximate Dimensions & Product Data:
Material: Tool Steel
Compatible Size: 4mm
Available prong numbers and sizes (each sold separately):
1-Prong (3mm, 4mm, 5mm, 6mm)
2-Prong (3mm, 4mm, 5mm, 6mm)
3-Prong (3mm, 4mm, 5mm, 6mm)
4-Prong (3mm, 4mm, 5mm, 6mm)
6-Prong (3mm, 4mm, 5mm)
When damaged, the prongs of this tool will break off rather than bend because they are tempered, making them hard yet somewhat brittle. This is due to the heavily tempered design, which eliminates the risk of undetected bent prongs ruining your leatherwork. Tempered prongs provide two advantages. Firstly, instead of bending, the prongs break to protect your leatherwork from uneven stitching that cheaper pricking irons can do with bent prongs. Second, tempered prongs provides exceptional hardness ensuring the prongs will not blunt and remain sharp over many uses. These characteristics provide the user peace of mind, knowing that it will not harm the leathercrafts on which they have worked so hard on, while ensuring excellent penetrative properties.
When using this tool, be sure to use a soft-headed hammer. To avoid breaking the prongs, never pull the tool side to side while attempting to extract it from your leather; instead, use the tool to draw it perpendicular to the leather. This tool should not be used on excessively thick leather that makes removal difficult (a larger size of pricking iron is recommended in this case. Do not to drop it or strike the prongs on a hard surface. Store this tool without it contacting a hard surface.
This listing is for Kyoshin Elle Pricking Iron 2x4mm only. Photos showing other tools and materials are for illustrative purposes only.
Photos with background grids are measured in millimetres, with each square representing one square millimetre.
Item reviews ()
---
---
Loading reviews...
Do you really want to delete?
---
| | |
| --- | --- |
| Item ID | 42736 |
| Condition | New |
| Manufacturer | Kyoshin Elle |
| Manufacturing country | Japan |
| Net weight | 21 g |
| Weight | 71 g |
| Dimensions | 111×8×6mm |