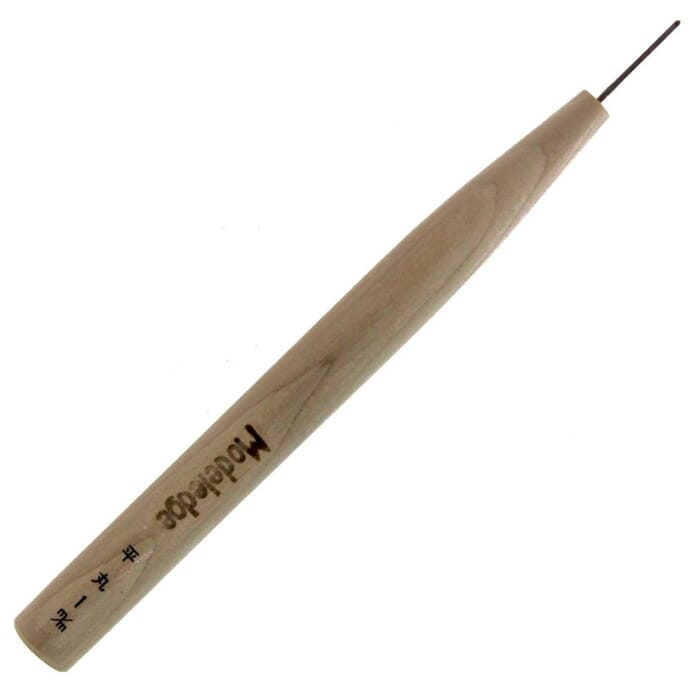 Michihamono Modeledge Japanese Micro 1mm Wood Carving Tool Round Edge Flat Woodworking Chisel, with High Speed Steel Blade, for Woodcarving
Made from High-Speed Steel and Japanese Cherry Blossom Wood, perfect for adding extra fine details and outlines on a woodblock and wooden sculptures such as hairs, furs, and other similar details.
---





This high quality 1mm Modeledge rounded flat chisel, handcrafted by artisans from Michihamono, is made from high-speed steel that is suitable with this kind of tool because of its high level of hardness and ability to resist wearing and cuts faster than high carbon steel. Coupled with the long and smooth handle made from Japanese cherry blossom wood with a tapered shape that ergonomically fits in hand for a more comfortable grip, perfect for carving with one hand.
This woodcarving tool is perfect for adding extra fine details and outlines to a wooden sculpture or plastic model such as hairs, furs, and other similar details. Its flat round cutting end which is sharpened into a shape close to a semi-circle can also be used in creating wrinkled designs on wood carvings such as in clothes.
Approximate Dimensions & Product Data:
Blade Material: High Speed Steel
Handle Material: Cherry Blossom Wood
Blade Width : 1mm
Handle Length: 150mm
Blade Edge Length: 20mm
To use this 1mm rounded flat chisel, hold the handle firmly like holding a pencil, with the flat side of the cutting edge facing upward. Clamp the wood or plastic item you are going to carve on a bench to keep it from making unnecessary movements. Carefully push the tool on the surface of the wood, plastic or resin, in a forward (not downward) motion and constant pressure. The 1mm blade edge is very fine, so use the tool with extra care as to not bend or break it.
Please note: Blade edge is sharp, keep away from reach of children.
Photos with background grids are measured in millimetres, with each square representing one square millimetre.
Please keep in mind that this quality wood carving tool features an extremely fine, detailed blade that should only be handled with great caution. Please follow the guidelines below to avoid breaking or bending the blade.
This tool should not be struck with any object, such as a mallet when cutting wood,
Do not attempt to remove large amounts of wood per stroke. Trim or shave only a small amount of wood from your project at a time using multiple small strokes,
Do not use this tool to penetrate the wood any more than the thickness of the blade,
Never use the blade of this tool as a lever to remove wood,
Cutting strokes should be only vertical (i.e., up or down), with minimal pressure applied,
Horizontal shearing force, in any axis, should never be applied.
Item reviews ()
---
---
Loading reviews...
Do you really want to delete?
---
| | |
| --- | --- |
| Item ID | 21148 |
| Condition | New |
| Manufacturer | Michihamono |
| Manufacturing country | Japan |
| Weight | 90 g |