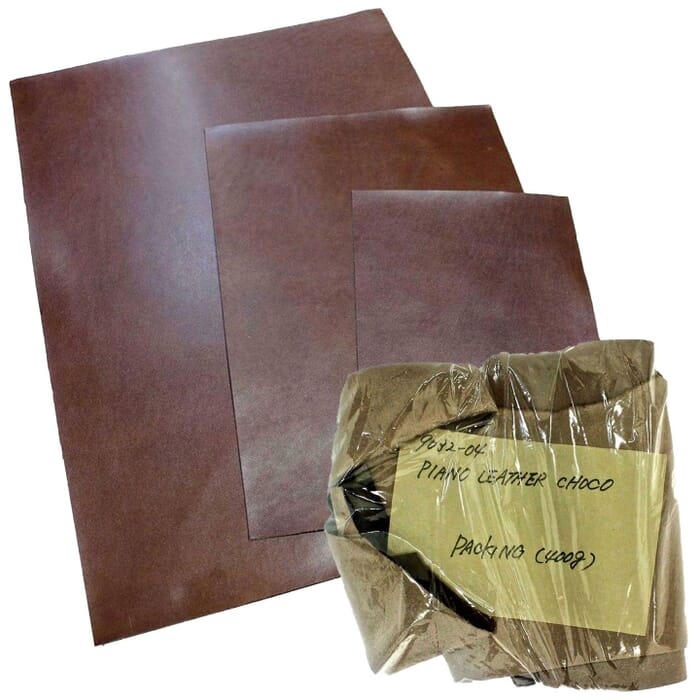 Craft Sha Leathercraft 1.2mm Choco Brown Vegetable Tanned Cowhide Piano Leather, with A2-A4 & 400g Scrap, for Leatherworking
---
This high quality, professionally tanned, oiled and skived, choco brown leather for leathercraft has is for sale in A2, A3, A4 sizes, and 400g of scraps.
---
---
Sold out




This high quality, professionally tanned, oiled and skived, choco brown leather has been machine cut to the following sizes:
A4 size (210mm by 297mm or 8.2 by 11.7), Similar to US Letter,
A3 size (297mm x 420 mm, or 11.7 x 16.5), double the size of A4,
A2 size (420mm x 594 mm, 16.5 x 23.4), four times the size of A4,
400g of high quality scrap leather,
This leather is excellent for your next leather project. 1.2mm is perfect for wallets, cases, pockets or pouches.

Available in various thicknesses and colours. Great if you want to make your leathercraft in multiple colours.

Why pay for large hides or irregularly shaped and skived scraps of leather that that will see large portions go to waste? Why risk getting inconsistent quality?

This full-grain, oiled, vegetable tanned leather is made right here in Japan from humanely source cow hide and tanned under the strictest environmental standards to the highest quality. You can be assured that this leather is of the highest quality full-grain leather and will not be stretchy, misshapen, excessively fibrous or brittle.

Buy multiple leather pieces in the thickness and colour you desire for your next project. Our A4 leather cuts are perfect for making:
| Type of project | Number of A4 leather pieces recommended |
| --- | --- |
| Card pockets for wallets & bags | 1 piece (8 pockets per A4 piece) |
| Watch straps, key chains | 1 piece (about 3 or more items per A4 piece) |
| Card case, ID holder, necklace, phone, camera or pencil case | 1 piece recommended |
| Wallets, small case | 2~3 pieces recommended |
| Complex or biker wallet, larger cases or bags | 3~4 pieces recommended |
| Large handbag, patchwork tote bag or messenger bag | 5 or more pieces recommended |
Source: A4 leather Projects book, Studio Tac
Our leather is guaranteed to be:
Genuine vegetable tanned, full-grain leather with no plastic coating,
Professionally cut, ensuring clean edges and right angles,
Professionally dyed, (where applicable) so your leather won't fade like home dyed leather will,
Professionally skived with guaranteed smoothness and thickness of + or - 0.07mm,
Of consistent high quality which means you can buy as many as you need and be assured of near identical results,
Cut at right angles, ensuring minimal loss and less time spent cutting your leather.
Please note as this leather is hand cut and is a natural product scars, minor blemishes, slight colour unevenness and imprecise cutting of few millimeters along the edges may appear. As this leather has been professionally oiled, further dyeing, stamping or lacquering are not recommended, however the edges and flesh side can be burnished. 400g Bag of leather scraps shown is an approximation, appearance and trimming of scraps may vary.
Item reviews ()
---
---
Loading reviews...
Do you really want to delete?
| | |
| --- | --- |
| Item ID | 42818 |
| Condition | New |
| Manufacturer | Craft Sha |
| Manufacturing country | Japan |
| Net weight | 1190 g |
| Weight | 1590 g |