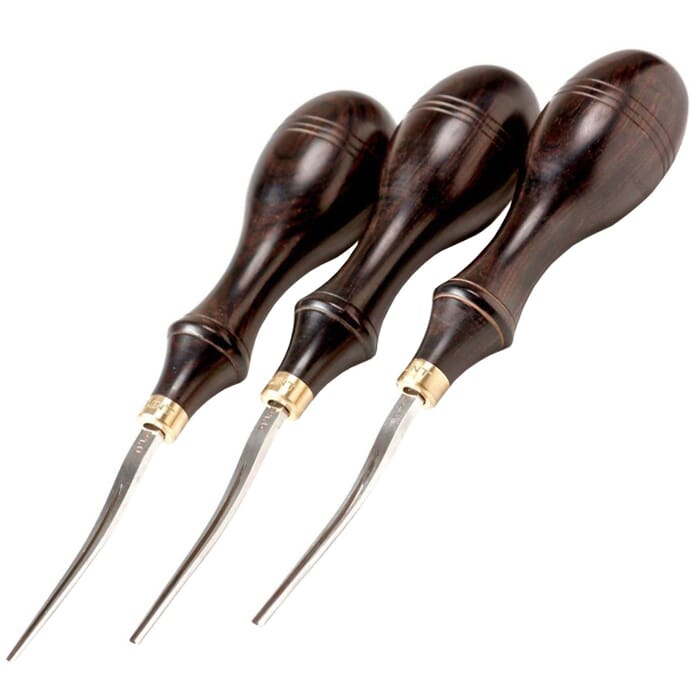 Craft Sha Flint Leathercraft Tools 1mm-2mm Freestyle U Gouge Leather Hand Stitching Groover, with Ebony Handle & Stainless Steel Blade
---
Free hand gouges in your leatherwork to varying depth with this precision FLINT tool from Craft Sha of Japan. Available in three sizes: 1.0mm, 1.5mm and 2.0mm in width.
---
---





This professional FLINT tool from Craft Sha of Japan gives your not only the freedom to free style U Gouges in your leather, but is also made from some of the finest materials available to exacting standards demanded by Craft Sha in order to carry the FLINT brand name, guaranteed to be sharp straight out of the packaging.
This precision tool comes in three blade width sizes for various gouging needs:
1.0mm, for fine gouges,
1.5mm, for medium gouges,
2.0mm, for large gouges,
The handle of this tool is polished ebony, contoured to ergonomically fit your hand, whereas the machined brass ferrule adds an strength to the tool and bears the FLINT name. The blade is made for superb quality Japan Takefu VG-10 steel that has been honed and polished to perfection. VG-10 Stainless steel has 1% Carbon, 15% Chromium, 1% Molybdenum, 0.2% Vanadium, 1.5% Cobalt, and 0.5% Manganese and has been formulated especially for cutting purposes. Originally aimed at the professional knife market and professional chefs, VG-10 was soon found to be exceptional at various types of leather cutting tools, ensuring the highest level of precision, durability and sharpness.
To use this Craft Sha FLINT Freestyle Hand Stitching Groover Leathercraft U Gouge 1mm-2mm, simply select the size of tool appropriate for the thickness of your leather and size of gouge you wish to make. Hold the tool at an acute angle, suitable for making your initial incision an penetrate the leather to a short depth, before angling the blade more level to continue cutting your gouge. Move the blade steadily, smoothly, and firmly through you leather to ensure a consistent, clean gouge. When ready to finish your gouge, angle the blade upwards to cut upwards and out of your leather.
To sharpen, run the cutting edge of your blade in a consistent round movement, back and forth over a suitably lubricated, fine grit (no more than 1000 grit) whet stone until the desired sharpness has been reached, before stropping over a leather strop, treated with jewellers rouge.
FLINT tools are specially commissioned and designed by Craft Sha of Japan to meet the highest standards of workmanship and quality, using only the finest materials. Each tool is subject to rigorous quality controls and only those that pass the demanding standards for the Japan market are permitted to cary the FLINT brand name. Do not settle for imitations made from less suitable materials and less professional workmanship, ensure your tools have the proven quality of the FLINT brand
Please note, this listing is for a single tool in the size of your choice, other items are for illustrative purposes only. When storing, ensure the cutting blade is not in contact with any hard surface. When maintained correctly, this tool will retain an extremely sharp cutting edge, keep out of the reach of children.
Item reviews ()
---
---
Loading reviews...
Do you really want to delete?
| | |
| --- | --- |
| Item ID | 20995 |
| Condition | New |
| Manufacturer | Craft Sha |
| Manufacturing country | Japan |
| Net weight | 100 g |
| Weight | 200 g |