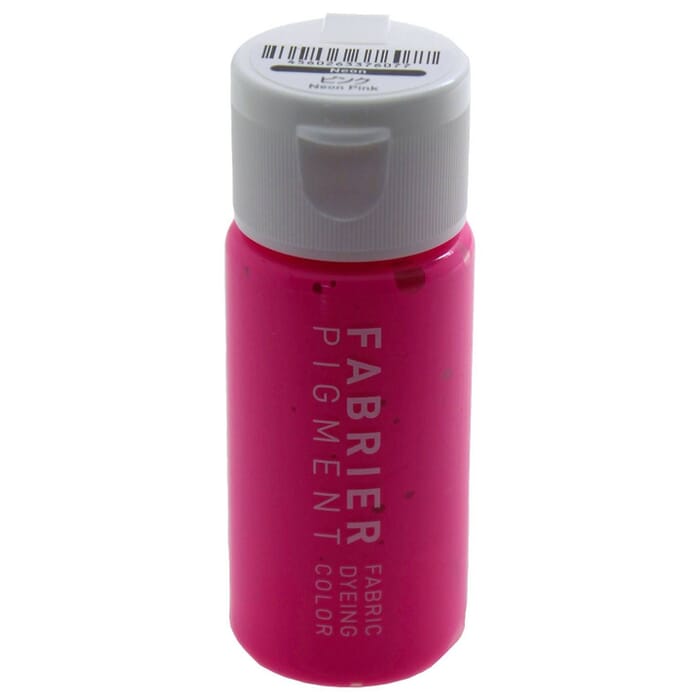 Seiwa Neon Pink Fabrier Pigment Fabric Dyeing Color 35ml Fluorescent Leathercraft Dye, for Fabric & Leather Painting
---
This paint can be used on clothing, bags, and as an edge coat for leather goods like wallets, belts, and other such items. Simple to use fabric and leather paint that produces vibrant colors.
---
---

In stock




Seiwa's high-quality Fabrier Neon paint has a high level of flexibility and elasticity, making it ideal for leathercraft and various fabrics such as silk, cotton, rayon, linen, and denim. It can tolerate folds and stretches, allowing you to enjoy the color patterns without fear of cracks or other damage. This type of Fabrier is opaque and bright, thus, it will appear more vibrant even when used on dark-colored surfaces compared to other fabric and leather dyes.
To create more designs for your fabric and leathercrafts, use a variety of materials like stencils, rubber stamps, and brushes. Allow your painted pattern to dry for a full day after an application to ensure it is entirely dry and will not stain. To increase the durability of the paint, iron the cloth to the appropriate temperature. Fabrier Neon comes in four different colors (each sold separately).
Available Colors (sold separately):
• Neon Yellow
• Neon Orange
• Neon Pink
• Neon Green
Size:
• 35ml
Ingredients:
• Water-Based Acrylic Resin Pigment
Use Fabrier in the same way you would use a regular paint. When painted on cloth, wait until Fabrier is dry enough to touch before ironing it at a temperature appropriate for the type of fabric used. When applied on leather, finish your work by coating it with leather lacquer. The normal drying time for a thin coat is 20 to 30 minutes (1 day for complete drying).
To use this Fabrier on leathercraft cutting edges, first add burnishing gum to the edges and then rub with a leather slicker. Then use 400 grit sandpaper to smooth it out. Do the same process, but this time smooth it out using 800 grit sandpaper. Prepare the Fabrier, a clean ceramic bowl, or other small container, and a cotton brush or any similar brush. In a ceramic bowl, thin out a small amount of Fabrier using a diluent or a little bit of water if necessary. Apply with a brush to the leather's edges and wait a few minutes for it to dry. Reapply the paint and run it through with a leather slicker for greater results. Smooth the cutting edge using 2000 grit sandpaper. Finish by reapplying Fabrier and allowing it to dry one last time.
Please note the following: 
This listing is for Fabrier Neon Pink 35ml only. Photos showing other products and materials are for illustrative purposes only.
Store in a cool, dry place. Keep out of the reach of children.
This product is not suitable for leather repair, or to otherwise improve the cosmetic appearance of damaged leather.
Item reviews ()
---
---
Loading reviews...
Do you really want to delete?
| | |
| --- | --- |
| Item ID | 42647 |
| Condition | New |
| Manufacturer | Seiwa |
| Manufacturing country | Japan |
| Net weight | 35 g |
| Weight | 135 g |