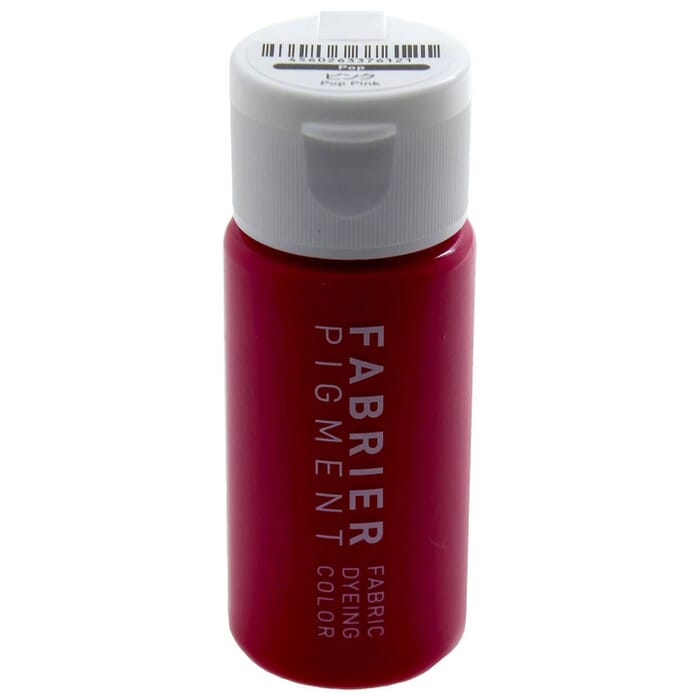 Seiwa Pop Pink Leathercraft Fabrier 35ml Fabric & Leather Dyeing Color Water Based Acrylic Resin Pigment, for Leatherwork Painting
---
Use this Fabrier Pop to make fashionable and personalized items such as shoes, clothes, and other fashion accessories.
---
---





This excellent quality Fabrier Pop, from Seiwa, is included in their Fabrier line up for decorating and customizing leathers and fabrics can be used similar to a normal paint along with other 12 vivid Pop colors for adding designs to your bags, shoes, and other materials. It has a rising effect when applied and dried with hot air and is more durable compared to conventional paints. This product is nontransparent and will have the same appearance on either light or dark surfaces.
This product can be used on most fabrics and leathers, including cotton, rayon, linen, silk, and nonslip nylon fabrics. It can be applied in various ways such as stamping, stenciling, masking, and freehand for more personalized designs. For better results, apply 2 to 3 times and dry for 12 to 24 hours.
Available Colors (sold separately):
• Yellow
• Orange
• Red
• Pink
• Light Green
• Green
• Sky Blue
• Blue
• Violet 
• Brown
• White
• Black
Size:
• 35ml
Ingredients:
• Water-Based Acrylic Resin Pigment
• Butane Gas
To use this Fabrier on leather edges, first, apply burnishing gum and rub with a slicker to finish. After polishing, smooth using a 400 grit sandpaper. Run the leather slicker again on the edges after re-applying burnishing gum, use 800 grit sandpaper for smoothing for the second time. Prepare the Fabrier along with a brush and a ceramic bowl or any small container. Apply evenly to the leather edge. Allow it to dry for a few minutes then paint it again with Fabrier. Re-apply once more, then rub with a leather slicker after drying. Smooth the leather edge with 2000 grit sandpaper. To complete the process, apply Fabrier for the last time then dry. Edge coat application may vary depending on the type of chemical.
Use Fabrier on leather and fabric goods similar to using conventional paints. Place a moderate amount of Fabrier in a small container or ceramic bowl to use on the surface of a fabric or leather product. Brushes, sponges, and stamps are some of the materials that can be used to paint with. The suggested application is two to three times. Before reapplying, let it dry for 20-30 minutes. Add diluent or water to the Fabrier if the paint is difficult to spread.
This listing is for Fabrier Pop Pink 35ml only. Photos showing other objects are for illustrative purposes only.
Please note: Store in a cool, dry place. Keep out of the reach of children.
Item reviews ()
---
---
Loading reviews...
Do you really want to delete?
| | |
| --- | --- |
| Item ID | 21353 |
| Condition | New |
| Manufacturer | Seiwa |
| Manufacturing country | Japan |
| Net weight | 35 g |
| Weight | 135 g |