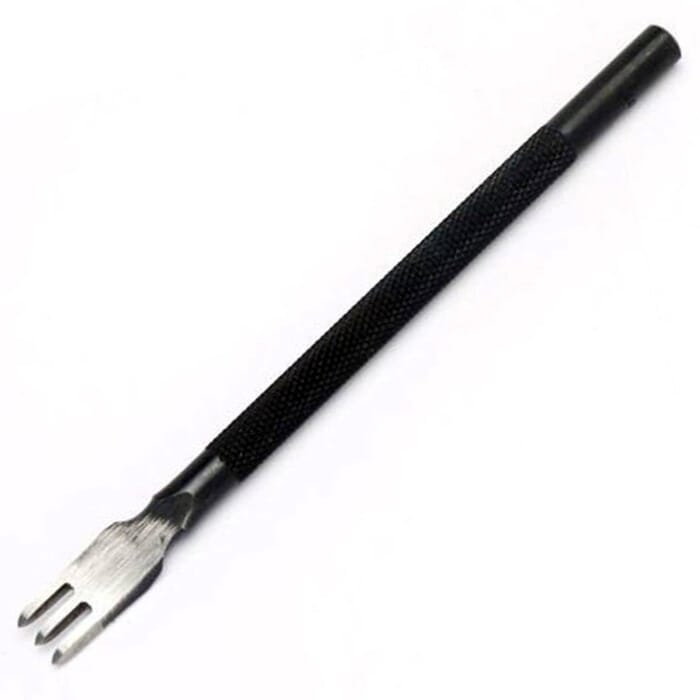 Kyoshin Elle 3x3mm Leathercraft Sewing Tool Pricking Iron 3mm 3-Prong Diamond Point Leather Stitch Punch, for Leatherworking
Perfect for swiftly and efficiently punching holes in your leathercraft, especially over long distances, saving you time and effort. This superb three-prong pricking iron is ideal for your next leather work job.
---





This diamond point stitching chisel made by Kyoshin Elle is an excellent choice for your leather sewing needs. This leather craft tool's polished surface allows it to penetrate through leather more smoothly than an ordinary one, protecting the shape of holes in leather and allowing you to stitch a more attractive stitch line. This tool has undergone a tempering and quenching process, which results in exceptional hardness and sharpness. With three prongs, this tool is best suited for punching straight lines on smaller leather products or stitch lines.
Great for marking stitch holes to punch with your awl or punching stitch holes with the tool itself. This leathercraft tool forged from tool steel is made in Japan to the highest standard and will last for a long time.
Approximate Dimensions & Product Data:
Material: Tool Steel
Compatible size: 3mm
Available prong numbers and sizes (each sold separately):
1-Prong (3mm, 4mm, 5mm, 6mm)
2-Prong (3mm, 4mm, 5mm, 6mm)
3-Prong (3mm, 4mm, 5mm, 6mm)
4-Prong (3mm, 4mm, 5mm, 6mm)
6-Prong (3mm, 4mm, 5mm)
As this tool's prongs are tempered, making them strong but brittle, they will break off instead of bending when overstressed. This is by design, to prevent the prongs from damaging your leatherwork by producing uneven stitch holes, which is the case with cheaper tools that bend rather than break. The tempered prongs offer two things, first, instead of bending, they break to protect your leatherwork from uneven stitching. Second, provides long-lasting tips that not only require less sharpening but also provide more lasting penetration. These features give the user peace of mind, knowing it will not damage the leathercraft you have spent so much time creating.
Please always use a soft-headed hammer whenever you are using this tool. Never shift it side to side when trying to remove it from your leather, always pull it with the tool perpendicular to your leather in order not to break the prongs. Never use it in thick leather that will make this tool hard to remove. Keep this tool away from other tools and materials. Lastly, do not drop or knock the prongs against a solid surface.
This listing is for Kyoshin Elle Pricking Iron 3x3mm only. Photos showing other tools and materials are for illustrative purposes only.
Photos with background grids are measured in millimetres, with each square representing one square millimetre.
Item reviews ()
---
---
Loading reviews...
Do you really want to delete?
---
| | |
| --- | --- |
| Item ID | 42732 |
| Condition | New |
| Manufacturer | Kyoshin Elle |
| Manufacturing country | Japan |
| Net weight | 21 g |
| Weight | 71 g |
| Dimensions | 111×10×6mm |