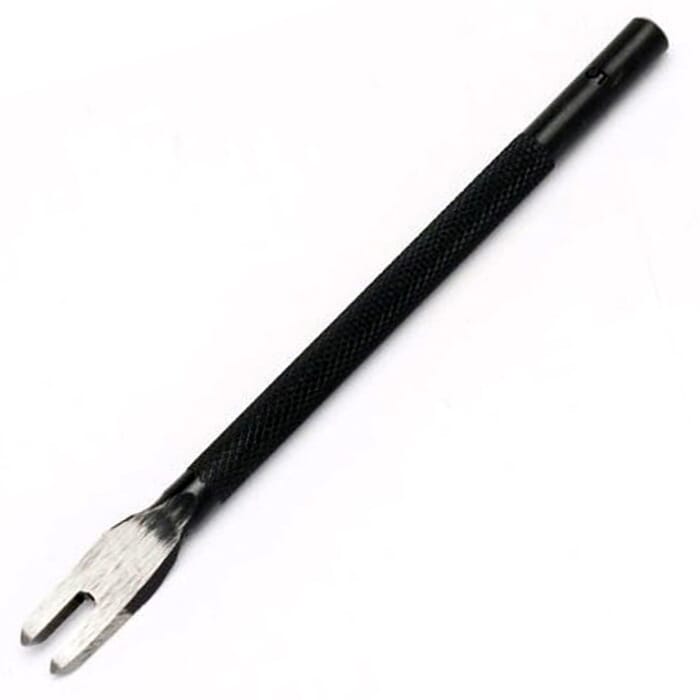 Kyoshin Elle 2x5mm Leathercraft Tool Pricking Iron 5mm 2-Prong Diamond Point Leather Stitch Punch, to Pierce Stitching Holes in Leatherwork
---
This hand sewing tool is made for efficiency, smooth work, and a beautiful hand-sewn look. Use this tool to make a stitching hole for hand sewing.
---
---

In stock




This leather pricking iron, by Kyoshin Elle of Japan, has been sharpened and tempered for exceptional sharpness and toughness. This tool may be used to create beautiful diamond-shaped stitch holes in leather, which will give you professional results every time. This pricking iron is made of high-quality tool steel, which has excellent hardness, wear resistance, and toughness, allowing it to last for many years. The handle is non-slip and ergonomically designed to fit your hand, allowing you to grasp it securely and firmly while working.
This two-prong pricking iron is particularly ideal for creating stitch holes around curves and for adding stitch holes in smaller increments.
Approximate Dimensions & Product Data:
Material: Tool Steel
Compatible size: 5mm
Available prong numbers and sizes (each sold separately):
1-Prong (3mm, 4mm, 5mm, 6mm)
2-Prong (3mm, 4mm, 5mm, 6mm)
3-Prong (3mm, 4mm, 5mm, 6mm)
4-Prong (3mm, 4mm, 5mm, 6mm)
6-Prong (3mm, 4mm, 5mm)
This tool's prongs are highly tempered, making them exceptionally hard, but somewhat brittle by design, ensuring the prongs, while having the hardness needed for enduring sharpness, will break off when overstressed, rather than bend. This safety feature is a significant advantage as undetected bent prongs can potentially ruin your leatherwork by producing permanent uneven stitch holes. As for using this tool, soft-faced hammers, rather than metal hammers, are recommended to avoid damaging the tool, it is also recommended to pull this pricking iron straight out of the leather instead of rocking it side to side as this may cause the prongs to break. It is not advisable to use this tool on thick leather to the point that it can be difficult to remove, in such a case, a larger size of pricking iron is recommended.
This listing is for Kyoshin Elle Pricking Iron 2x5mm only. Photos showing other tools and materials are for illustrative purposes only.
Photos with background grids are measured in millimetres, with each square representing one square millimetre.
Item reviews ()
---
---
Loading reviews...
Do you really want to delete?
| | |
| --- | --- |
| Item ID | 42741 |
| Condition | New |
| Manufacturer | Kyoshin Elle |
| Manufacturing country | Japan |
| Net weight | 21 g |
| Weight | 121 g |
| Dimensions | 111×10×6mm |