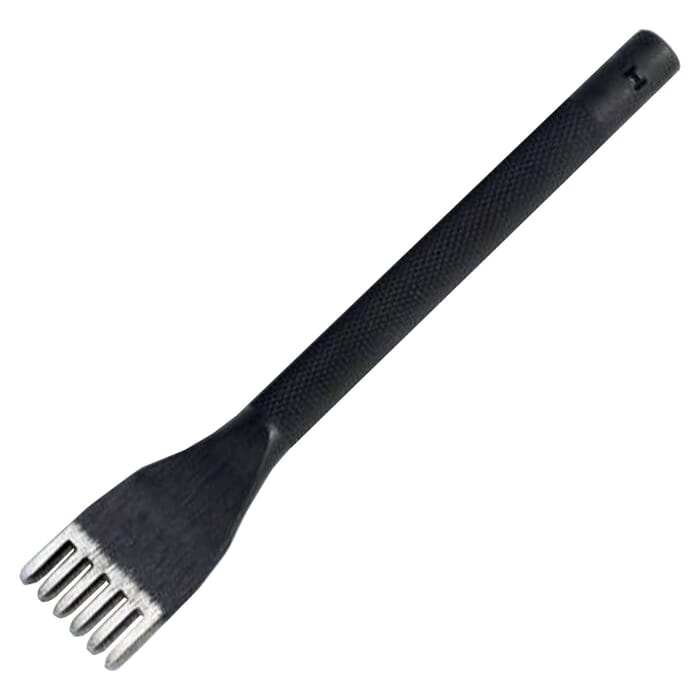 Kyoshin Elle Leathercraft Tool 6x3mm European Style Stitching Chisel 6-Prong Leather Pricking Iron, to Punch Sewing Holes in Leatherwork
---
This is the tool to use if you wish to punch flat, diagonal stitch holes in longer lines such as the edges of your leather. This six-prong 3mm pricking iron can help you sew faster and more precisely.
---
---

In stock




This high-quality six-prong European pricking iron by Kyoshin Elle of Japan produces diagonal, flat-shaped stitch holes, making it simple to sew professional-grade stitches in your leather. Sew uniform, precisely spaced, and symmetrically slanted stitches by marking your stitch holes on your leather work. This leather stitch punch is made of high-quality materials with optimally hardened prongs and will last for many years. While working, the knurled non-slip handle helps you to grasp it securely and firmly.
This tool makes a great addition to your leathercraft toolkit for professional-grade leather stitch holes on wallets, shoes, and other leather items. Place a board under the leather before punching to protect your tool and workspace. This six-prong stitching chisel makes punching a large number of stitch holes on a straight line, such as the edges of your leather, simple and quick.
Available prong numbers and sizes (each sold separately):
Single Prong
2-Prong (3mm, 4mm, 4.5mm, 5mm)
4-Prong (3mm, 4mm, 4.5mm, 5mm)
6-Prong (3mm, 4mm, 4.5mm, 5mm)
Please note, the prongs on this tool are highly tempered, which makes them very hard, but somewhat brittle, so that overstressed prongs would break off, rather than bend. This is by design, as bent prongs of lower quality pricking irons deform more easily, not only ruining the tool, but also have the potential to ruin your leatherwork by producing permanent uneven stitch holes if undetected. The highly tempered prongs of this quality tool have a dual purpose: To protect your leatherwork from uneven stitching by having the prong break, rather than bend, when overstressed. Safeguarding you from uneven stitching of a bent tool, while giving longer lasting points that require less sharpening and greater penetrating power. This dual feature is of great benefit as it gives you peace of mind, knowing there is no chance of even a single uneven hole to ruin the leather masterpiece you've spent many hours working on.
Always use a soft headed hammer (never metal) and tap it into your leather work gently, when removing, always pull it out of your leatherwork straight, never shift it side to side to loosen it or this could snap the prongs. Avoid using leather that is so thick it makes removal difficult. If you work with leather that is thick enough to make removal difficult then a wider pricking iron is recommended. Please store this tool away from other tools or hard objects, do not drop this tool or strike on a hard surface.
This listing is for Kyoshin Elle 6x3mm European Leather Pricking Iron only. Photos showing other tools and materials are for illustrative purposes only.
Keep out of the reach of children.
Item reviews ()
---
---
Loading reviews...
Do you really want to delete?
| | |
| --- | --- |
| Item ID | 42919 |
| Condition | New |
| Model | 50231-06 |
| Manufacturer | Kyoshin Elle |
| Manufacturing country | Japan |
| Net weight | 20 g |
| Weight | 120 g |