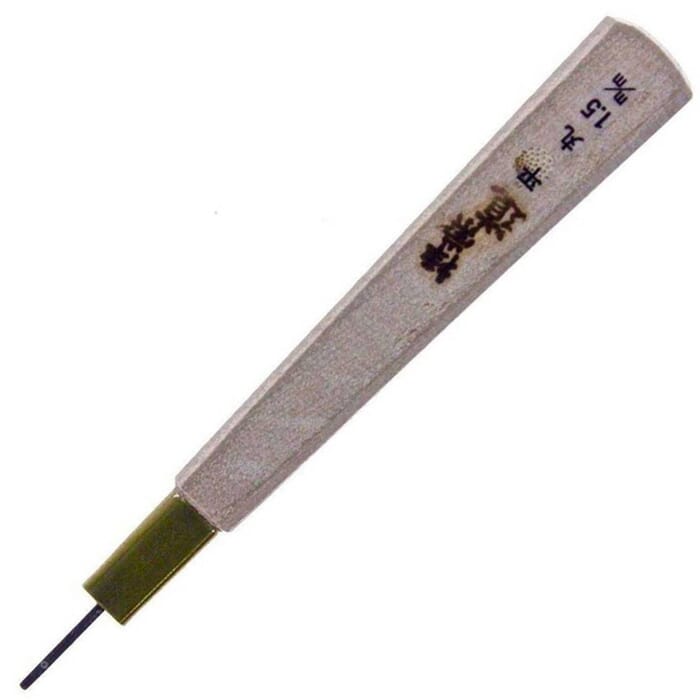 Michihamono 1.5mm Premium Micro Wood Carving Tool Round Edge Straight Woodcarving Flat Chisel, to Carve Details in Woodworking
This tool has a long, extendible blade that can be adjusted out from the handle after it has been worn down from sharpening far longer than competing tools. Excellent value for money.
---





This premium woodcarving tool has a fine 1.5mm wide cutting edge, manufactured by Michihamono. This tool is forged from high-speed steel, a steel with a high alloy content, which has exceptional hardness and abrasion resistance. The long blade extends deep inside the handle and can be adjusted after decreasing its length from repeated sharpening, extending the tool's life and providing you many years of service. This tool has a wooden handle made from cherry blossom wood and can be removed easily to adjust the blade and at the same time holds the blade firmly along with the ferrule when using it to carve wood.
This flat chisel with a rounded cutting edge can be used for cleaning narrow corners and edges in your wood. It can also be used in carving small details and lines with its 1.5mm wide blade. A professional wood carving tool that will be a good investment of your money and will be of great use.
Approximate Dimensions & Product Data:
Blade Material: High Speed Steel
Blade Width: 1.5mm
Handle Material: Cherry Blossom Wood
Handle Length: 110mm
Full Length: 130mm
Simply remove the bolster from the handle carefully with pliers or similar implements and rotate the top half of the handle on the hinge pin until the blade and shank are completely exposed. By lifting the blade and shank straight up from the handle, you can release the shank hook from the wood. Use an appropriate whetstone to sharpen your blade. Replace the blade into the handle channel either with the hook placed in the original hole it was unseated from, or move the blade to a higher position in the handle as the blade is ground down. Please keep in mind that the blade should be pushed up the handle in one-centimeter increments to avoid creating too many anchor points in the wood, which might weaken it. The blade will be compressed by the handle, creating friction that should assist hold it in place. Adhesives or lubricants are not advised since they may compromise the tool's functionality. Excessive backward pressure on the front of the blade should be avoided to avoid hook deformation. If the hook becomes deformed and no longer holds the blade in place and cannot be rectified, please contact the manufacturer for a replacement. After the blade has been worn down by a little under twice the amount that is visible from the end of the bolster when initially acquired, with good usage and care, this tool should still be able to operate.
Please note: The blade edge is sharp, keep out of the reach of children. Store without the blade contacting any hard surface to avoid dulling the cutting edge.
Photos with background grids are measured in millimetres, with each square representing one square millimetre.
Please keep in mind that this quality wood carving tool features an extremely fine, detailed blade that should only be handled with great caution. Please follow the guidelines below to avoid breaking or bending the blade.
This tool should not be struck with any object, such as a mallet when cutting wood,
Do not attempt to remove large amounts of wood per stroke. Trim or shave only a small amount of wood from your project at a time using multiple small strokes,
Do not use this tool to penetrate the wood any more than the thickness of the blade,
Never use the blade of this tool as a lever to remove wood,
Cutting strokes should be only vertical (i.e., up or down), with minimal pressure applied,
Horizontal shearing force, in any axis, should never be applied.
Item reviews ()
---
---
Loading reviews...
Do you really want to delete?
---
| | |
| --- | --- |
| Item ID | 19458 |
| Condition | New |
| Model | 40010150 |
| Manufacturer | Michihamono |
| Manufacturing country | Japan |
| Weight | 40 g |