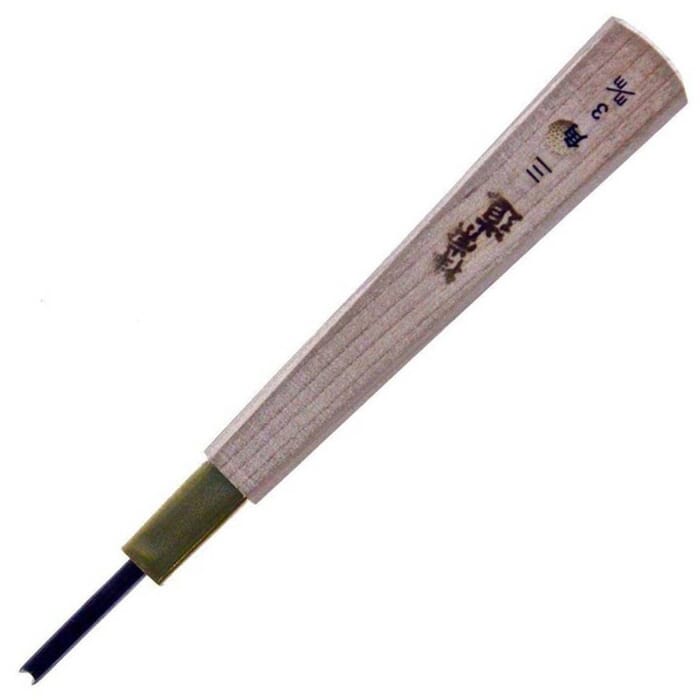 Michihamono Premium Wood Carving Small 3mm 60 Degree V Gouge Parting Tool, with High Speed Steel, to Carve Grooves & Channels in Woodworking
This tool has a long, extendible blade that can be adjusted out from the handle after it has been worn down from sharpening far longer than competing tools. Excellent value for money.
---





The exceptional design that comes with this Michihamono Japanese Premium 3mm 60° V Gouge Parting wood carving Tool allows it to last up to 3 times more than the normal woodcarving tool. This Japanese tool has a design that allows for an extendible blade, making it the best choice for your woodblock carving (Mogu Hanga) and general wood carving needs. This also means that you can still use it even after multiple sharpenings that ground it down.

By choosing to buy this tool, you are making a value for money investment.

When adjusting the blade, gently remove the bolster from the handle with pliers or similar tool. Use the hinge pin to pivot the top haf of the handle until you fully expose the blade and shank. Proceed to lift the blades upwards to remove it from the handle This will free the shank hook from the wood. Now that the blade has been detached, you can sharpen it using a whetstone then detach it back to the handle while ensuring the hook sits in its original hole, or you can move the blade higher if it has been ground down. Please note that moving the blade should be done in one-centimetre increments. This helps prevent the creation of too many anchor points as this weaken's the wood being made. Do not worry about using adhesives and lubricants as the compression provided by the handle is enough to keep the blade in its place. Ensure that you do not apply excessive backward pressure on the font of the blade as this leads to a deformed hook. In the case that your hook is damaged in the process, reach out to your manufacturer for a replacement. By taking proper use and care of this tool, you will be adding on its performance even in the face of continuous wear and tear for up to 2x the exposed length it had when new. .

Approximate dimensions for this wood carving tool include:
Handle length (not including bolster): 9cm
Handle width (widest point): 1.5cm
Handle width (narrowest point): 1.0cm
Bolster length: 1.8cm
The background grid in the picture is in square millimetres.
Please keep in mind that this quality wood carving tool features an extremely fine, detailed blade that should only be handled with great caution. Please follow the guidelines below to avoid breaking or bending the blade.
This tool should not be struck with any object, such as a mallet when cutting wood,
Do not attempt to remove large amounts of wood per stroke. Trim or shave only a small amount of wood from your project at a time using multiple small strokes,
Do not use this tool to penetrate the wood any more than the thickness of the blade,
Never use the blade of this tool as a lever to remove wood,
Cutting strokes should be only vertical (i.e., up or down), with minimal pressure applied,
Horizontal shearing force, in any axis, should never be applied.
Item reviews ()
---
---
Loading reviews...
Do you really want to delete?
---
| | |
| --- | --- |
| Item ID | 19824 |
| Condition | New |
| Model | 40040300 |
| Manufacturer | Michihamono |
| Manufacturing country | Japan |
| Weight | 40 g |