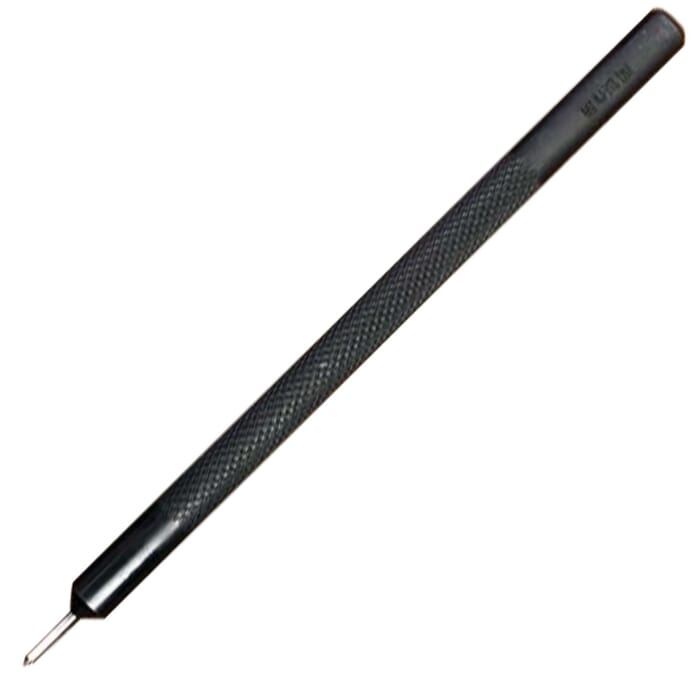 Oka Pricking Punch 1 Prong Round Leather Stitch Punch Leathercraft Sewing Tool Round Hole Stitching Punch, to Pierce Sewing Holes in Leather
---
This specially made pricking iron is perfect for producing neat, professional-looking stitches in your leathercraft.
---
---
Sold out




Oka, one of Japan's preeminent makers of leathercraft tools, designed and manufactured this single-prong, round pricking iron to enable you to punch round holes for the corners of stitch lines, or where your sewing will cross leather overlaps. This tool is made of tool steel that has been tempered and forged to give it attributes like hardness, wear resistance, and toughness, assuring that it will last for many years. The handle of this tool is non-slip and hence gives a very comfortable grip. This tool's prong is slightly tapered to make it easier to remove from the leather.
This simple but very important tool can be used to produce a single round-shaped stitch hole on the corner of your leather, useful for unifying stitches in a clean and pleasant looking way. This tool is ideal for creating corner stitch holes or precisely putting a stitch hole in just the right location.
Approximate Dimensions & Product Data:
Material: Tool Steel
Tapered Prong Size: 1.4~1.6mm 
Because this tool's prong is highly tempered, making it strong yet brittle, it will break off rather than bend when overstressed. This is due to its unique design, which prevents uneven thread holes in your leatherwork. Tempered prongs provide two benefits: To begin with, instead of bending, they snap off, preserving your leatherwork from uneven stitching, as opposed to cheaper pricking irons, that are prone to undetected bending, which can damage your leatherwork with permanent uneven stitch holes. Second, it offers long-lasting sharpness that require less sharpening and have more penetrating capability. These features provide the user ease of mind, knowing that the leathercrafts on which they have spent so much time and effort will not be ruined.
If you're going to use this pricking iron, make sure you use a soft-headed hammer. To prevent breaking the prong, never pull this tool side to side while attempting to extract it from your leather. Instead, pull it perpendicular to the leather. Keep this tool at a safe distance from other tools and materials. Finally, avoid dropping it or striking it against a hard surface.
This listing is for Oka Pricking Iron Single Prong Round Hole Leather Stitch Punch only. Photos showing other materials are for illustrative purposes only.
Keep out of the reach of children.
Item reviews ()
---
---
Loading reviews...
Do you really want to delete?
| | |
| --- | --- |
| Item ID | 42797 |
| Condition | New |
| Model | 6051 |
| Manufacturer | OKA Tools |
| Manufacturing country | Japan |
| Net weight | 60 g |
| Weight | 160 g |