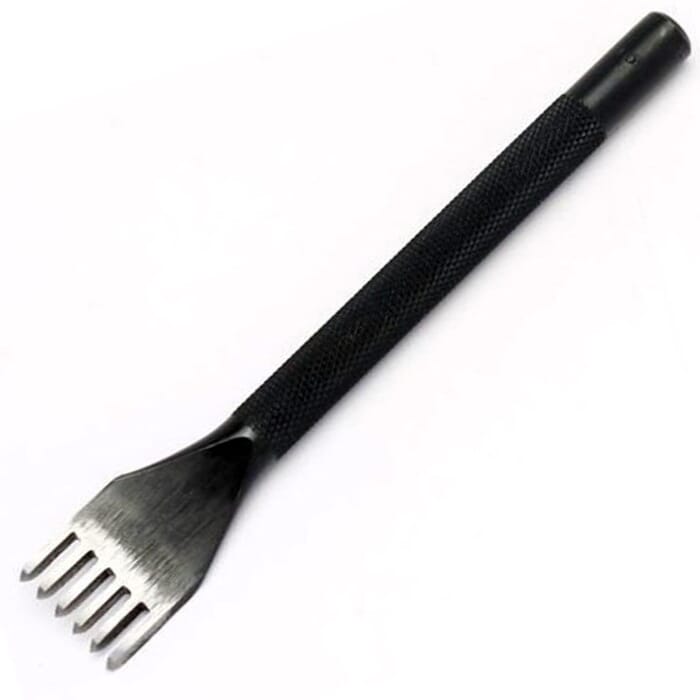 Kyoshin Elle Leathercraft Sewing Pricking Iron 6x3mm Stitching Punching Tool 3mm 6-Prong Diamond Point Leather Stitch Punch
---
If you want to punch diamond stitch holes in longer lines than ever before, this is the tool for you. This six-prong 3mm pricking iron will make your sewing both efficient and precise.
---
---





Kyoshin Elle of Japan produces this high-quality six-prong pricking iron, that creates beautiful diamond-shaped stitch holes making it easy for you to sew professional grade stitches in your leather. Mark your stitches on your work so that you may sew uniform, evenly spaced, and symmetrically slanted stitches. Forged from tool steel, a variety of carbon steel and alloy steel that has specific properties including hardness, wear resistance, and toughness, will ensure many years of service and optimally hardened prongs. The non-slip handle allows you to grip it comfortably and firmly while working.
Great for professional grade leather punching on your wallets, shoes, and other projects, and makes a fantastic addition to your leathercraft toolbox. To avoid damaging your table surface, place a board under the leather before punching. The six pointed prong allows you to punch a large number of stitch holes easily and swiftly.
Approximate Dimensions & Product Data:
Material: Tool Steel
Compatible size: 3mm
Available prong numbers and sizes (each sold separately):
1-Prong (3mm, 4mm, 5mm, 6mm)
2-Prong (3mm, 4mm, 5mm, 6mm)
3-Prong (3mm, 4mm, 5mm, 6mm)
4-Prong (3mm, 4mm, 5mm, 6mm)
6-Prong (3mm, 4mm, 5mm)
Because this tool is highly tempered, the prongs of this tool will break off rather than bend when incorrectly stressed because they are strong but delicate. This is due to the design, which eliminates uneven thread holes in your leatherwork, which can happen with undetected bends in the prong that may occur with lower quality tools. The tempered prongs serve two purposes. First, they snap rather than bend, safeguarding your leatherwork from uneven stitching. Second, it provides long-lasting tips with more penetrating strength that require less honing. These features provide the user peace of mind, knowing that their leathercrafts, which they have spent a long time perfecting, would not be damaged by this tool.
When using this tool, please always use a soft-headed hammer instead of a metal one. When attempting to remove it from your leather, never shift it from side to side; instead, pull it with the tool perpendicular to your leather to avoid breaking the prongs. Should you find it difficult to remove this tool from your leather, consider using a larger size of pricking iron. Store this tool separately from other tools and materials to avoid damage. Finally, do not drop it or strike it on a solid surface.
This listing is for Kyoshin Elle Pricking Iron 6x3mm only. Photos showing other tools and materials are for illustrative purposes only.
Photos with background grids are measured in millimetres, with each square representing one square millimetre.
Item reviews ()
---
---
Loading reviews...
Do you really want to delete?
| | |
| --- | --- |
| Item ID | 42734 |
| Condition | New |
| Manufacturer | Kyoshin Elle |
| Manufacturing country | Japan |
| Net weight | 37 g |
| Weight | 137 g |
| Dimensions | 112×18×8mm |