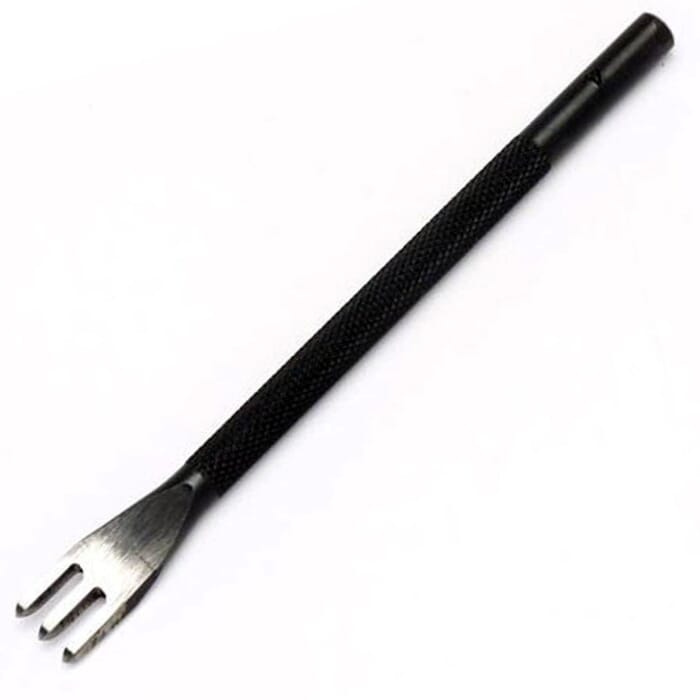 Kyoshin Elle Leathercraft Pricking Iron 3x4mm Stitching Punching Tool 4mm 3-Prong Diamond Point Leather Stitching Tool, for Leatherworking
---
This high-quality pricking iron will punch three precise stitch holes in your leather right out of the box.
---
---

In stock




Kyoshin Elle's three prong, 4mm diamond point pricking iron is made in Japan, and is excellent for making short, straight stitch lines in your leathercraft project. This tool has been quenched and highly tempered, which results in excellent hardness of the prongs and an enduring sharpness of the points. Unlike other pricking irons, this pricking iron is designed to penetrate leather, negating the need for an awl, vastly speeding up the time it takes to make your stitch holes. Punch stitch holes through your work using this tool so that you may sew consistent, regularly spaced, and symmetrically slanted stitches.
This leathercraft tool forged from high carbon, tool steel and is produced to the highest standards in Japan.
Approximate Dimensions & Product Data:
Material: Tool Steel
Compatible Size: 4mm
Available prong numbers and sizes (each sold separately):
1-Prong (3mm, 4mm, 5mm, 6mm)
2-Prong (3mm, 4mm, 5mm, 6mm)
3-Prong (3mm, 4mm, 5mm, 6mm)
4-Prong (3mm, 4mm, 5mm, 6mm)
6-Prong (3mm, 4mm, 5mm)
Please keep in mind that the prongs on this tool are heavily tempered, which makes them extremely strong but also slightly brittle, so that overstressed prongs will break off rather than bend. This is by design, since bent prongs of lower-quality pricking irons bend more quickly, not only damaging the tool but also having the potential to damage your leatherwork by generating permanent uneven stitch holes if left unnoticed. This excellent tool's finely tempered prongs serve two functions: one is to prevent your leatherwork from uneven stitching by having the prong break off rather than bend when overstressed. Protecting you against the uneven stitching caused by a bent tool, while also providing longer lasting points that require less sharpening and have better penetration.
Please keep in mind that the professional nature of this product demands extra attention. Always use a soft-headed hammer (never metal) and gently tap it into your leatherwork; when removing, always take it straight out of your leatherwork; never twist or rock the tool side to side to loosen it as this might snap off the prongs. Avoid using leather that is so thick that it is impossible to remove. A larger pricking iron is advised if you work with leather that is thick enough to make removal difficult. Please keep this tool away from other tools and other objects, and do not drop or strike it on a hard surface.
This listing is for Kyoshin Elle Pricking Iron 3x4mm only. Photos showing other tools and materials are for illustrative purposes only.
Photos with background grids are measured in millimetres, with each square representing one square millimetre.
Item reviews ()
---
---
Loading reviews...
Do you really want to delete?
| | |
| --- | --- |
| Item ID | 42737 |
| Condition | New |
| Manufacturer | Kyoshin Elle |
| Manufacturing country | Japan |
| Net weight | 22 g |
| Weight | 122 g |
| Dimensions | 111×11×6mm |