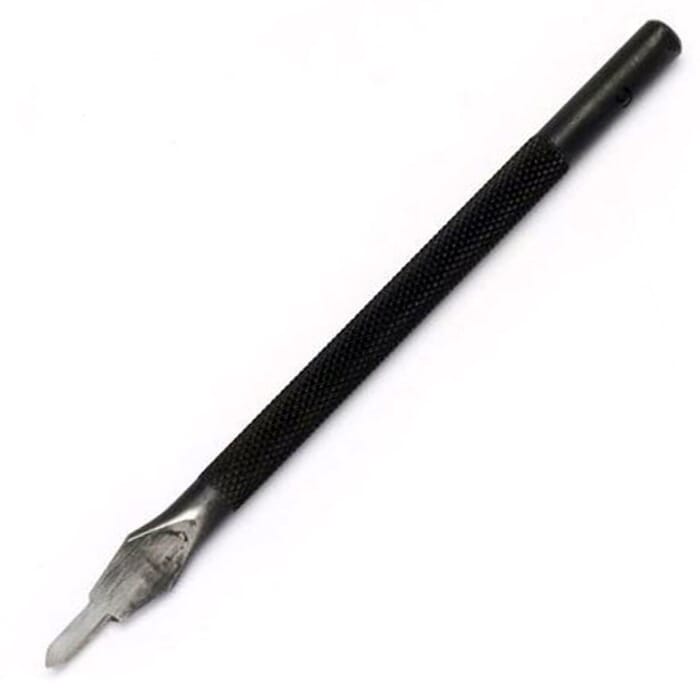 Kyoshin Elle 1x6mm Leathercraft Tool Pricking Iron 6mm Single Prong Diamond Point Leather Stitch Punch, to Pierce Holes in Leatherwork
---
This stitch punch marks and punches your leather for stitching, saving you the expertise and time required to produce holes with other tools.
---
---




Kyoshin Elle's stitching hole punch makes leather sewing easy by letting you punch uniformly spaced, professional stitching holes in your leathercraft. This tool does it all, so you don't need an awl to work your way through the stitch marks before beginning to sew. This tool has been forged from quality tool steel, giving it exceptional hardness, and wear resistance, making it great for your leathercraft, and ensuring it will last for a long time. Use this pricking iron together with other tools in different sizes, with differing number of prongs (each sold separately), to have more versatility on punching your leatherworking projects.
Use this single prong stitch punch when dealing with the corners of your leather, so as to angle the diamond hole 45 degrees for maximum stitching neatness and strength, or to position stitch holes across overlapping leather, by positioning the stitch hole away from the leather's edge. This tool's handle is designed to be non-slip and so provides a very comfortable grip. This tool is also useful for creating stitch holes with custom spacings and ensuring that holes do not stop too far or too close to the stitch line's end.
Approximate Dimensions & Product Data:
Material: Tool Steel
Compatible size: 6mm
Available prong numbers and sizes (each sold separately):
1-Prong (3mm, 4mm, 5mm, 6mm)
2-Prong (3mm, 4mm, 5mm, 6mm)
3-Prong (3mm, 4mm, 5mm, 6mm)
4-Prong (3mm, 4mm, 5mm, 6mm)
6-Prong (3mm, 4mm, 5mm)
This tool should be struck with a soft-headed hammer, never a metal head hammer, and always draw the stitching chisel straight out of your leatherwork after punching, not in a side to side motion, as this might cause the prongs to snap.
Please keep in mind that the prongs on this tool are heavily tempered, which makes them extremely hard and gives them exceptionally long lasting penetrative abilities. Yet tempering makes the prongs somewhat brittle, allowing the prongs to break off rather than bend when damaged. While this may not sound preferable, this is, in fact, an excellent design feature as the prongs will break off when damaged enough to become misaligned, thereby preventing the permanent damage to your leatherwork that can occur with undetected bent prongs, an occurrence that happens with cheaper tools. Keep this tool away from other tools and other objects, and do not drop or allow this to to strike it against a hard surface.
This listing is for Kyoshin Elle Pricking Iron 1x6mm only. Photos showing other tools and materials are for illustrative purposes only.
Photos with background grids are measured in millimetres, with each square representing one square millimetre.
Item reviews ()
---
---
Loading reviews...
Do you really want to delete?
| | |
| --- | --- |
| Item ID | 42745 |
| Condition | New |
| Manufacturer | Kyoshin Elle |
| Manufacturing country | Japan |
| Net weight | 21 g |
| Weight | 121 g |
| Dimensions | 111×10×6mm |