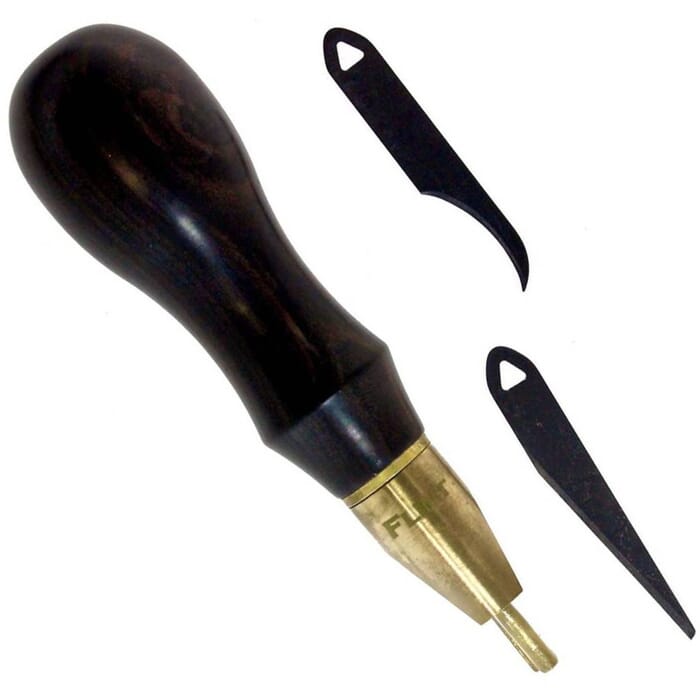 Craft Sha Flint Leathercraft Tool Industrial Leather Clicker Knife Set, with Interchangeable Straight & Curved Blade, to Cut Leatherwork
---
Cut your most intricate leather carvings and edges with this Quality FLINT Industrial Knife Set by Craft Sha of Japan. Quality made by expert artisans from D2 Steel, machined brass ferrule, and ebony handle, this knife is truly a cut above the rest.
---
---
Sold out




Don't settle for anything less than this premium quality FLINT Leather Knife Set from Craft Sha of Japan. Perfect for when surgical precision is needed to craft your next leather masterpiece. Comes with a removable D2 Stainless Steel blade that can be swapped either for a straight edge blade, for slicing lines, or a curved blade for those hard to reach places.
Each replaceable blade of this tool is made with quality D2 tool steel, that is 1.4-1.6% carbon, 0.60% manganese, 11.00-13.00% chromium, 0.30% nickel, 1.10% vanadium, and 0.70-1.20% molybdenum, giving it exceptional strength and rust resistant qualities. The primary use of D2 steel is for making stamping dies that cut steel pieces out of other, softer steels. Rarely is this premium steel used to make blades, but when it is, you know it will leave the competition in the dust. The solid ebony handle is smooth and free of the pitting and grain that grate and rub against the skin, causing blisters, while the opulently appointed brass ferrule and blade holder are made from solid brass.
To replace the blade, carefully unscrew the ferrule, taking care to avoid the blade (cut resistant gloves are recommended). Once the ferrule is sufficiently loosened, using pliers or similar tool, grasp the blade you wish to remove and gently work free from the handle. Safely dispose of blade before replacing, again using pliers or similar tool to seat the replacement blade firmly back into the handle, before re-tightening the ferrule. Ensure new blade is secure before use.
To sharpen the blade, grip the handle firmly and run the blade in a smooth, stroking motion firmly over the surface of a FLINT Sharpening Rod (sold separately) along both bevels, until the blade has achieved sufficient sharpness. Once your blade is sharp again, strop both bevels of the blade over the flesh side of some leather that has been treated with jewellers rouge. Should the blade deform or show wear from excessive sharpening, discard the blades safely and replace with new ones.
All FLINT tools are quality designed and commissioned by Craft Sha of Japan to exacting standards both in terms of quality of materials and workmanship. Don't settle for imitations, insist on quality your can trust, insist on genuine FLINT tools.
This listing is for the knife handle with ferrule, and two blades (one curved, the other straight). Additional spare blades (both straight and curved), as well as sharpening rod, are sold separately. Please note; not compatible with Tandy blades or handles.
Item reviews ()
---
---
Loading reviews...
Do you really want to delete?
| | |
| --- | --- |
| Item ID | 20993 |
| Condition | New |
| Manufacturer | Craft Sha |
| Manufacturing country | Japan |
| Net weight | 100 g |
| Weight | 200 g |