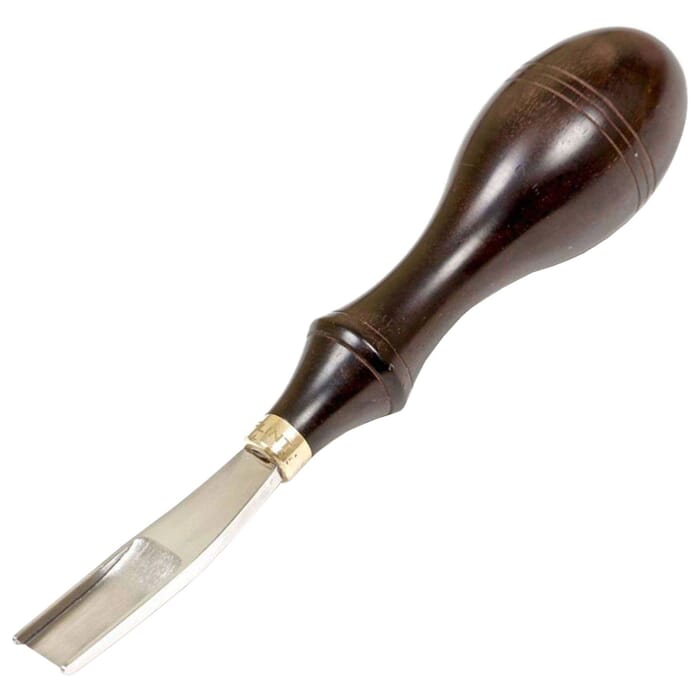 Craft Sha Flint Leathercraft Beveling Tool Japanese 10mm Skiver French Edger, with Ebony Handle, to Bevel & Reduce Leather Thickness
---
The French Edge Skiver by Craft Sha's Flint Leather Tool collection is one of "the" tools you'd need to produce quality and clean cuts on your projects.
---
---





This 10mm French Edge Skiver by Craft Sha's FLINT Leather Tool collection is of exceptional quality, and is perfect to produce quality and clean cuts on your leather projects. Ideal for making smooth flat bevels along the edge of the leather. It also acts as a skiver to reduce leather thicknesses in certain areas. Please note: Also available separately in 6mm.
To use this Craft Sha FLINT Leathercraft Tool French Edger 10mm 25/64 Leather Skiver Beveler, simply hold your leather firmly, flesh side up, position your French Edger at the desired angle at the corner closest to you, and push the blade away from you firmly to cut the edge of your leather using a steady hand. Should you wish to ensure accuracy, scribe a guide line on the flesh side of the leather for the higher side of the blade to follow while cutting.
This tool promotes comfort in handling and superb results. The blade is made from high quality D2 steel, and it is held in place by a sturdy handle made of ebony wood and a machined brass ferrule. The blade has been forged from D2 stainless steel, making this tool of exceptional quality. D2 steel has a high chromium, high carbon tool steel that air hardens with minimal distortion, allowing the artisan to fashion this tool to perfection. D2 steel hardens in the 55-62 HRC range, giving it the perfect balance of hardness and strength, allowing it to retain an excellent cutting edge. D2 has a high chromium content making it resistant to corrosion.
Please note that the background grid is in square millimetres.
Only the finest leather tools are permitted to carry Craft Sha's FLINT brand. Expertly made by commissioned artisans, these professional tools are made to the highest quality standards and materials in order to wear the FLINT brand. Fashioned from tried and true designs, these tools are often copied but never imitated. Insist on FLINT branded tools for best results. Quality commissioned in China by Craft Sha for the Japan market. 
To sharpen this tool, simply run the blade over an oiled, fine grit whet or oil stone (1000 grit or higher) in a forward and backward motion, non-bevelled side down, until the desired sharpness is attained. After which the blade should be stropped over a leather strop treated with jewellers rouge for best results. Ensure the cutting edge of the blade is not struck or stored in contact with hard objects. Keep out of the reach of children.
Item reviews ()
---
---
Loading reviews...
Do you really want to delete?
| | |
| --- | --- |
| Item ID | 20983 |
| Condition | New |
| Manufacturer | Craft Sha |
| Manufacturing country | Japan |
| Net weight | 70 g |
| Weight | 170 g |