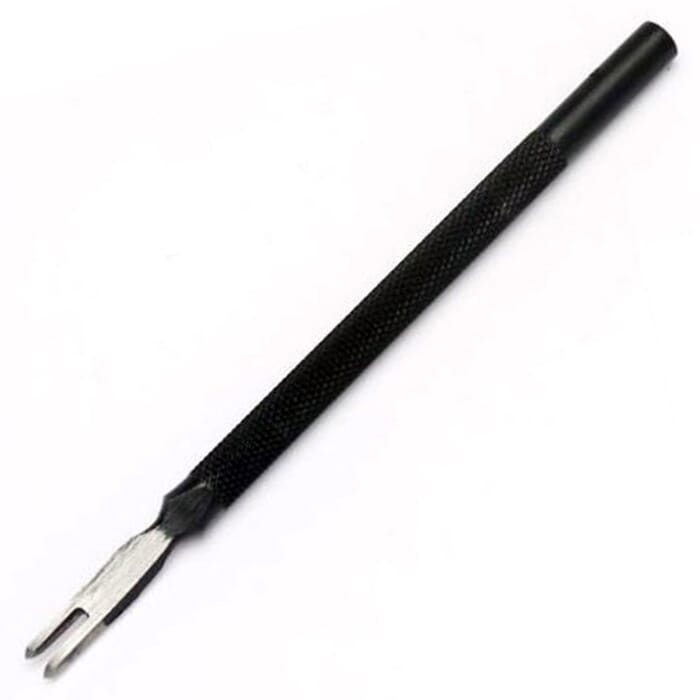 Kyoshin Elle Leathercraft Sewing Pricking Iron 2x3mm StitchingTool 3mm 2-Prong Diamond Point Leather Stitch Punch, with Non-Slip Handle
---
This chisel's polished surface allows it to penetrate through and be drawn more smoothly than conventional leathercraft stitching chisels.
---
---

In stock




Kyoshin Elle of Japan produced this durable 2-pronged pricking iron. Tool steel, which this tool is made from, is a high carbon alloy steel that has specific properties including hardness, wear resistance, toughness, and resistance to softening at high temperatures. For exceptional sharpness, it's been quenched. Stitching holes in the leather are simple to make, and the leather is not damaged when it is pulled out after punching. This stitching chisel has a diamond point that makes punching quick and easy. The handle has a non-slip design that fits your hand and allows you to grip it comfortably and firmly while working.
This two prong pricking iron is great for making stitch holes around curves, or for when you need smaller increments of addition stitch holes. 3mm is suited for finer or smaller leather projects, such as watch straps, or card holders. 
Approximate Dimensions & Product Data:
Material: Tool Steel
Compatible size: 3mm
Available prong numbers and sizes (each sold separately):
1-Prong (3mm, 4mm, 5mm, 6mm)
2-Prong (3mm, 4mm, 5mm, 6mm)
3-Prong (3mm, 4mm, 5mm, 6mm)
4-Prong (3mm, 4mm, 5mm, 6mm)
6-Prong (3mm, 4mm, 5mm)
Because the prongs of this tool are highly tempered, making them hard yet brittle, they will break off rather than bend when overworked. This is due to the design, which prevents it from causing uneven thread holes in your leatherwork. The tempered prongs have two benefits. First, rather than bending, they snap off to safeguard your leatherwork from uneven stitching, which is not the case with cheaper pricking irons that bend and ruin your leatherwork with uneven stitch holes. Second, it offers long-lasting tips that not only require less honing but also have more penetrating force. These qualities provide the user with piece of mind, knowing that it will not harm the leathercrafts they have worked so hard to create.
If you use this tool, be sure you use a soft-headed hammer. To prevent breaking the prongs, never pull it side to side when attempting to extricate it from your leather; instead, draw it perpendicular to the leather with the tool. A larger size may be suitable if you find it difficult to remove from your leather. Keep this tool at a safe distance from other tools and materials. Finally, try not to drop it or strike it against a hard surface.
This listing is for Kyoshin Elle Pricking Iron 2x3mm only. Photos showing other tools and materials are for illustrative purposes only.
Photos with background grids are measured in millimetres, with each square representing one square millimetre.
Item reviews ()
---
---
Loading reviews...
Do you really want to delete?
| | |
| --- | --- |
| Item ID | 42731 |
| Condition | New |
| Manufacturer | Kyoshin Elle |
| Manufacturing country | Japan |
| Net weight | 20 g |
| Weight | 120 g |
| Dimensions | 111×9×6mm |