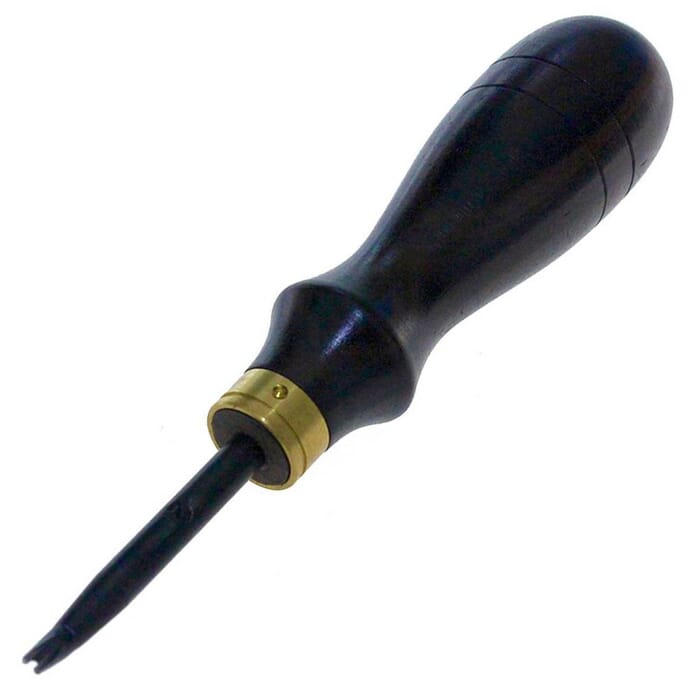 Oka Ebony Pro Edger Size 2 Leather Edge Beveler Leathercraft Sewing Tool 1mm Leather Skiver, with Ebony Handle, for Leatherworking
---
Its ergonomically designed handle combined with a Japanese beveling blade cuts off sharp edges of the leather to create smooth and rounded bevels ready for burnishing and polishing.
---
---
Sold out




Oka manufactures some of the best Japanese leathercraft tools out there, including this Leather Pro Edger with a polished ebony handle, a brass ferrule that is fixed in using a small nail, and a very sharp Japanese beveling blade that is tempered and corrosion treated to ensure this tool will last many years. The best part of this edger beveller is that it is designed to be sharpened over and over again, unlike other edge bevellers whose shape intentionally prevents sharpening. This will ensure many years of use.
This leathercraft edge beveller has a blade width of approximately 1.0mm which is best for the leather thickness of about 1.3-2mm (3-5 ounces). The size number is engraved on the shank for easy reference.
Approximate Dimensions & Product Data:
Handle (Ebony)
Ferrule (Machined brass)
Blade (Steel)
Blade Width: 1mm
To use this Leather Edger, first, prepare the leather you plan to bevel by dampening it with a wet cloth or sponge, then allow to dry. This will soften the leather, making the edges easier to bevel. Hold the tool comfortably with your index finger placed at the shank of the tool to give you more control when beveling. Depending on the angle of the bevel you want for your leather, round off the edges with your leather edger from the grain side and continue beveling to the flesh side until the edges are fully beveled. 
To sharpen this edge beveller, place #1000 grit sandpaper over a metal rod, that will ensure the sandpaper will contact all parts of the cutting edge of the blade when the blade is placed on top of both the sandpaper and rod. Once the rod size has been ascertained as the correct size, dampen the sandpaper with mineral oil, and run the blade over the sandpaper by repeatedly pulling the tool towards you until sharp. Strop with the flesh side of leather and with jewellers rouge to ensure a long lasting sharp edge.
Please note: The blade edge is sharp, keep away from reach of children.
Item reviews ()
---
---
Loading reviews...
Do you really want to delete?
| | |
| --- | --- |
| Item ID | 21308 |
| Condition | New |
| Manufacturer | OKA Tools |
| Manufacturing country | Japan |
| Net weight | 177 g |
| Weight | 277 g |