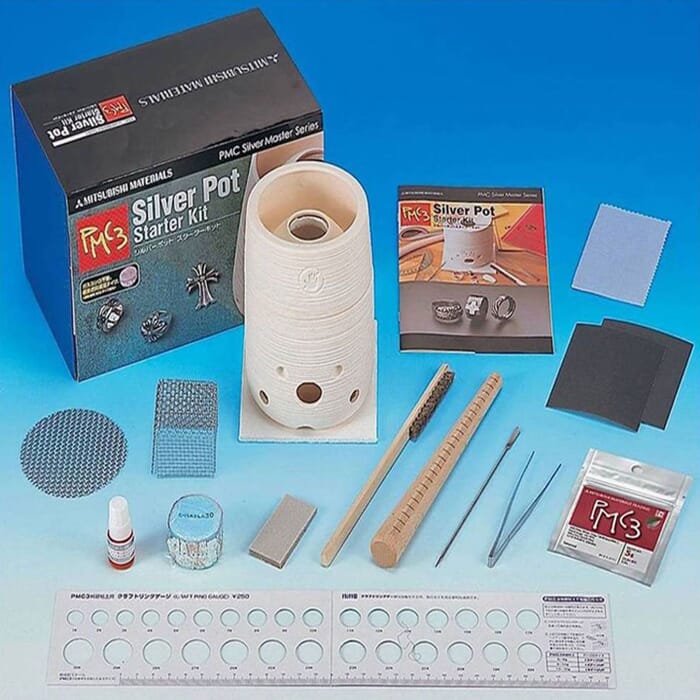 PMC Precious Metal Clay Silver Master Series Silver Pot Starter Kit, with Tools, Kiln, & Instructions, for Jewelry Making
This dazzling kit comes complete with everything you need to start making silver clay creations. Comes with kiln, tools, Japanese instructions, silver clay and more, all quality made in Japan.
---





You're looking at a brand new Silver Mini Pot Starter Kit that has all you need to make full size silver jewellery pendants and rings in the deluxe full size kiln.

Make your own engagement or wedding ring! Silver clay is pure silver suspended in a clay binder, when heated under flame the clay is simply burnt away, leaving pure silver in the shape it was moulded in prior to firing. Limiting your creation only by your imagination.

This incredible kit comes complete with illustrated instructions, 7 grams of silver clay, heat proof mat, lint free cloth, stylus, tweezers, finger measurer, liver of sulphur, polishing brushes, abrasive polishers, grating and even a large deluxe kiln with fuel tablet!

The firing chamber is round with a diameter of 7cm, the base of the firing chamber is flat with a conical interior and is 4cm to the top of the chimney which is its highest point. It is recommended that your PMC creation allow for some clearance from the edges of the kiln.

This kit can be used over and over again to make jewellery for fun, profit or that special someone. Make your own engagement or wedding ring! Please note that while the instructions are in Japanese, the pictorial instructions are easy to follow for the non-Japanese speaker.
An alternative to the fuel tablets would be 30 grams of gelled alcohol fuel placed in a heat proof container of similar dimensions to the foil containing the fuel tablet that comes with your kit. Should you use this method please ensure that the vessel you use to contain the gelled alcohol fuel can withstand the stresses of firing before using. Standard alcohol may be used instead of gelled alcohol fuel, however, in both cases, please ensure all care is taken to prevent spillage as this may constitute a fire hazard. Please note that this method is for informational purposes only, we cannot make any guarantees of any kind should you use this method.

Waxed alcohol Fuel Tablets sold separately. Please be certain to exercise caution and follow all safety instructions as misuse can cause a fire hazard, use in a well ventilated area. Not suitable for children. PMC3 or PMC Flex is recommended for the kiln in this listing. A second firing session is recommended for large pieces, or to ensure the sintering of items that may not have been fully sintered during the initial firing session.
Note: Cannot be used for Copper or Bronze
Item reviews ()
---
---
Loading reviews...
Do you really want to delete?
---
| | |
| --- | --- |
| Item ID | 20581 |
| Condition | New |
| Manufacturer | Nitto Gakku |
| Manufacturing country | Japan |
| Weight | 950 g |