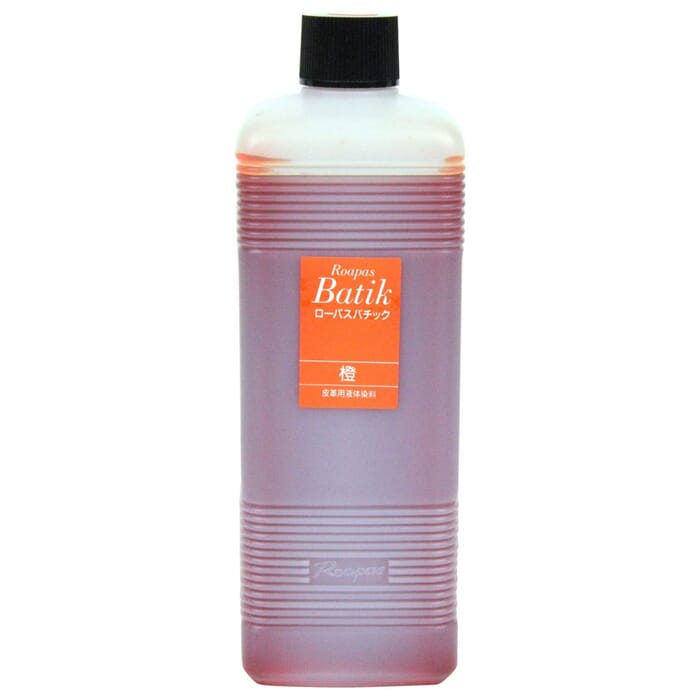 Seiwa Leathercraft 500ml Orange Roapas Batik Liquid Water Based Leather Dye, for Untreated Vegetable Tanned Leather
---
This Seiwa Roapas Batik dye is perfect for coloring your leathercraft creations, giving them unique, beautiful designs.
---
---





Color your leathercraft items with this Roapas Batik leather dye from Seiwa. This bottle of 500ml dye is great for large projects and can be used on the surface, as well as on the trimmed edges of your leather. This orange dye can be used together with other Roapas Batik leather dyes to create more colorful and beautiful designs. Choose from the 24 colors available (each sold separately).
Before applying, use a mild bleach or oxalic acid (1 teaspoon per pint of water) to remove any wax or dirt from your leatherwork, then soak a piece of cloth in the dye and rub it over the leather in a circular motion, reapplying as necessary. You can also dye your leather by using a regular paintbrush or airbrushing in a well-ventilated area. For the edges, use a small sponge, cotton bud, or any other similar applicator.
When dyeing your leathercraft products, use a leather lacquer and a primer binder to make sure the dye is protected and applied properly.
Product data:
Ingredient: Water-soluble cationic dye
Size: 500ml
Color: Orange
IMPORTANT NOTE: This dye is for undyed and untreated vegetable tanned leather used in leathercraft and may not be suitable for treated leather such as factory-produced handbags, table tops, car seats, leather couches, jackets, etc., as many (but not all) of these items have been pre-dyed and treated to resist dyeing and many have a plastic coating that will prevent the absorption of this dye. To test the suitability of this dye on pre-treated leather or chrome-tanned leather, thoroughly clean the leather you wish to dye with suitable cleansing fluid and place a drop of water on the treated area (mild rubbing may be required). If the leather absorbs the water then this dye may be suitable, however, please note that, unless your leather is untreated vegetable tanned leather we cannot guarantee the results and recommend you contact the manufacturer of your item for further details. We recommend you always test this dye first on a small patch of leather before committing to an entire project if you are unsure your leather is suitable.
Item reviews ()
---
---
Loading reviews...
Do you really want to delete?
| | |
| --- | --- |
| Item ID | 43763 |
| Condition | New |
| Model | 0046 03 |
| Manufacturer | Seiwa |
| Manufacturing country | Japan |
| Net weight | 500 g |
| Weight | 600 g |
| Dimensions | 190×60×60mm |