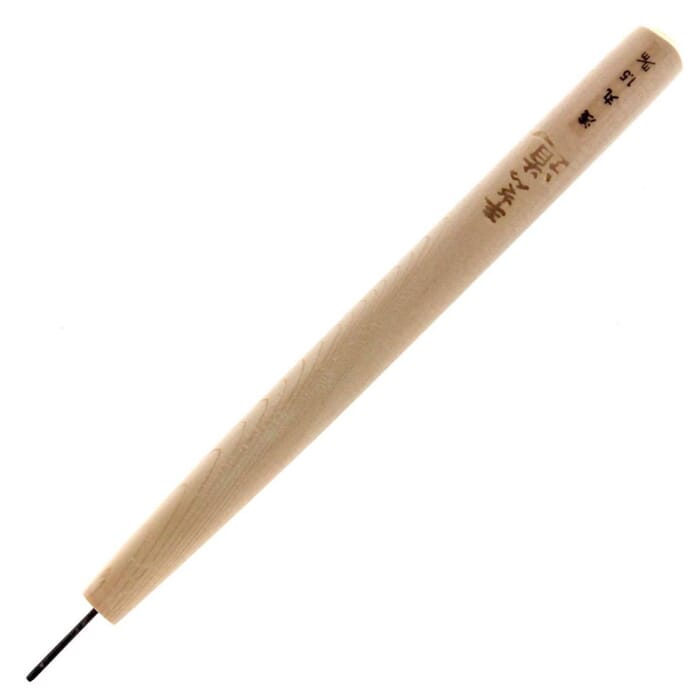 Michihamono Micro 1.5mm Japanese Wood Carving Tool Straight Shallow Woodcarving U Gouge, with Wooden Handle, to Carve Details in Woodworking
---
This 1.5mm Wood Carving Shallow Gouge is perfect for small wooden sculptures and very fine detailed works. It can also be used in carving tight spaces that a normal gouge cannot reach.
---
---

In stock




Carve intricate details into your wood carvings with this fine bladed Michihamono Japanese 1.5mm shallow gouge. Finely crafted out of the highest quality Japanese cypress wood handle and quality Blue Paper Steel (Aogami No.2) blade, the gouge will stand the test of time and hold up to the wear and tear of frequent use.
This Japanese woodworking tool features a blade that has a shallow sweep with a regular width. As a result, it is well suited to setting in and finishing shapes. At 1.5 millimetres in width, the gouge woodworking tool is best for precise, fine-detail work, such as lines and accentuating features and details. Great for carving fine details such as mouths and eyes, and adding textures such as fur and hair.
Kindly note the blade may be inserted into the wood slightly off-centre, this is a normal imperfection in the manufacturing process and should not affect the performance of this tool.
Approximate Dimensions & Product Data:
Blade Material: Blue Paper Steel (Aogami No.2)
Blade Width: 1.5mm
Handle Material: Japanese Cypress Wood
Handle Length: 180mm
To use this fine 1.5mm wood carving shallow gouge, first, clamp the wood you are going to carve in a workbench. Grip the handle of the tool in the palm of your right hand to push the gouge on the surface of the wood. Then using your left hand, hold the handle near the blade to guide the carving. Repeat the process until you meet the desired depth and design of the carving. Sharpen this tool using a fine grit oilstone or whetstone. As the blade and shank of this tool are extremely fine, care should be taken not to bend it.
Please note: The blade edge is sharp, keep out of the reach of children. Store without the blade contacting any hard surface to avoid dulling the cutting edge.
Photos with background grids are measured in millimetres, with each square representing one square millimetre.
Please keep in mind that this quality wood carving tool features an extremely fine, detailed blade that should only be handled with great caution. Please follow the guidelines below to avoid breaking or bending the blade.
This tool should not be struck with any object, such as a mallet when cutting wood,
Do not attempt to remove large amounts of wood per stroke. Trim or shave only a small amount of wood from your project at a time using multiple small strokes,
Do not use this tool to penetrate the wood any more than the thickness of the blade,
Never use the blade of this tool as a lever to remove wood,
Cutting strokes should be only vertical (i.e., up or down), with minimal pressure applied,
Horizontal shearing force, in any axis, should never be applied.
Item reviews ()
---
---
Loading reviews...
Do you really want to delete?
| | |
| --- | --- |
| Item ID | 21257 |
| Condition | New |
| Model | 10050150 |
| Manufacturer | Michihamono |
| Manufacturing country | Japan |
| Net weight | 50 g |
| Weight | 150 g |